If you want to learn where and how to play scratchies online in NZ or instant kiwi games, then this guide is the right place for you!
Here we have prepared all the information about the scratchies NZ that you need to know in order to learn how to play, where to play and how to increase your winning chances every time you buy a scratch card.
Scratch card games are the type of games where no skill or strategy is involved, but again to increase your chances and win you will need some tips from expert players that know a little bit more about these scratch card games.
In New Zealand, scratchies are very popular and because of that, we have created this guide that will help you understand better how they work and how to choose the best games out there.
So without further ado let's dive into the core of this topic.
Best sites to play online scratchies NZ
What are scratchies?
Scratchies NZ or scratch games are the types of games that can be played in physical stores or at fantastic casinos listed here on our site. A most popular form of physical scratch cards is instant kiwi scratchies or so-called lotto scratchies that are available at NZ lotto sites online or at local stores.
There are several types of these games with different prizes, but in today's article, we will focus on those in which the prize is real money.
Take a look at the image of an instant kiwi scratchies NZ card that we can buy in many places in New Zealand and even online on the official NZ lottery website.
Scratch games are played by buying a card with the symbols of cash prizes in different amounts and in order to win you need to scratch three symbols with the same amount.
The highest amounts you can win range up to NZ $ 100,000 and even more, and at fast payout casino sites in New Zealand you can get your payout within seconds.
How to play online scratchies in NZ?
Now, let's focus on the online NZ scratchies games where we will explain to you in steps how to play them online for real money. At online casinos, these games are available for free and for real cash.
In order to play and et a chance to win huge amounts you first need to register at one of the recommended online casinos from our list and make the first deposit.
There is a welcome bonus offer from which you can receive a match bonus of your deposit amount.
Learn how to play scratchies NZ online in 6 easy steps:
Best NZ scratchies
The list of the most popular scratchies in NZ→
If you are a fan of instant kiwi scratchies but you want to try some other types online, then this part will be your solution.
Here we have listed all the best and most popular scratchies that can be played online in New Zealand.
In addition to the games we have added and screenshot image and some information about the game that can describe to you more what to expect.
1. Piggy Bank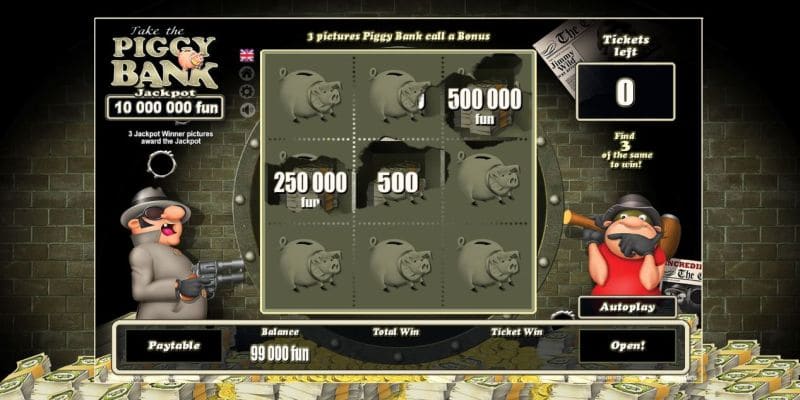 Piggy Bank is an amazing and so realistic scratchie card game developed by BelatraGames provider and it is available for free or for real money.
Players have the opportunity to win up to 10 000 000 via jackpot in this game, and that is what it makes is unique and so attractive.
The goal of the game is to find three identical values in the cells of the card after the protective layer is erased.
Players can scratch the protective layer with a computer mouse, touch screen or by clicking the open button.
2. Break the Ice
Break the Ice is a scratch game developed by Hacksaw Gaming with a theoretical RTP percentage of 66.53%. The rules of the game are simple, but a little different from the other scratches we've seen.
At the top of each scratch card are three winning numbers, below the protective schedule, are 8 hidden numbers with winning amounts in the currency below.
If you match one winning symbol, the prize will be as much as the amount indicated below the winning number.
The maximum win is up to NZ$ 127.338.
3. Patrick's Pick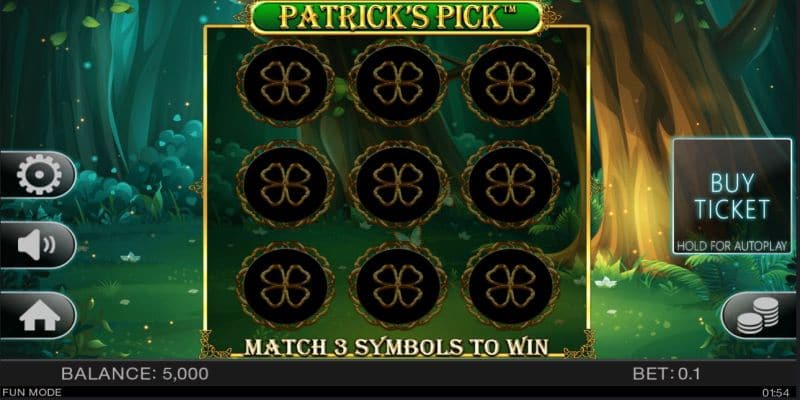 Patricks Pick is a scratchie that has an Irish leprechaun theme and it is developed by Spinomenal gaming provider.. The object of the game is to match three of the same symbols to win.
After entering the game, you should first adjust the size of the bet. The minimum bet size or the price of one scratch card is 0.01 while the maximum is 10.
Once you have set the bet size, press the long "buy card" button to start the game.
Hold down the button for a few seconds to turn on autoplay.
4. Chaos Crew
Chaos Crew is a scratch game created by Hacksaw Gaming and offers a profit of up to NZD 17,000. The look of the game is simple with 9 hidden winning symbols.
The prize you can win in each round is equal to the three same symbols founded under the layout protection.
To start the game, you have to press the "BUY" button, you can scratch the symbols manually or by pressing the "scratch all" button.
If you purchase multiple cards, you have options to activate the autoplay button.
The theoretical RTP percentage of this scratch is 60.12%.
5. Scratch Match
Evoplay Entertainment is the game provider responsible for creating the Scratch Match online scratch game.
This game is more subservient to real money pokies because the look of the game and the way it works can be compared to many online pokies we have seen before.
At the top of the game, we see the winning numbers that show up before the symbols below the protective layout are revealed.
The goal is to find as many matching hidden numbers as possible with the revealed symbols.
The number of hidden symbols is twenty, and you can set it to ten.
Frequently asked questions
Can I play scratchies NZ online for free?

Yes, most online New Zealand real money casinos offer a demo or test free mode to try out their games for free including scratchies. Just go to the game section and click the demo mode of the game you want to play for free.
Where can I buy lotto scratch cards in NZ?

You can buy them in local lotto stores in New Zealand. Most of those stores have created so many winners so it is a good recommendation to try them out.
Are there any scratchies tips that i should know about?

Most of the tips for playing scratch games are the same as for any other real money game. Play responsibly, read the terms and conditions, try the game for free if you are online before you pay, and watch which sites you play on.
Source: