Today we will talk about 6 New Zealand's land-based casinos.
Gambling in real casinos is popular all over the world, in some countries more in some less. Let's take for example the fact that in the UK exist over 100 land-based casinos. Quite a trendy right?!
But the trend of gambling in New Zealand, which owns only six land-based casinos is no less than in others United Kingdom. Quite the opposite, Kiwis like the gamble even more.
In every NZ land-based casino you can enjoy the same classic and machine casino games, bars, luxury restaurants, 5-star hotels, pleasant staff, VIP rooms for high rollers, and lots of other entertainments. On the same level as in the UK, for some even better!
Yes, gambling on these two islands is very popular but due to the NZ government's strict gambling laws and rules this nation is limited to only 6 brick and mortar casinos. Following the Gambling Act of 2003, the government holds the monopoly over all forms of gambling such as lotteries, sportsbooks, and even casinos.
This figure may sound a bit, but considering that New Zealand is not such a big country with about 5 million inhabitants, these 6 casinos offer enough luxury, entertainment and casino games for all.
In the continuation of our article, we will talk more about all casinos in New Zealand and explain in more detail everything you need to know before you visit them.
All land based casinos in New Zealand
There is a total of 6 land-based casinos in New Zealand, located in the five biggest cities including:
Christchurch Casino
Dunedin Casino (Grand Casino)
Auckland Casino (SkyCity)
Hamilton Casino (SkyCity)
Queenstown casino (SkyCity)
Wharf casino (SkyCity)
Sky City Entertainment Group owns as many as four casinos including SkyCity Auckland which is the largest casino in the entire country.
Christchurch Casino
Christchurch Casino was opened in 1994. It is the first-ever launched casino in the history of New Zealand. Today it is own by SkyLine Enterprise LTD. The Chch casino is located near the airport and before the pandemic, it was opened 24 hours on Fridays and weekends and from 11 am to 3 am on working weekdays. Besides over 5000 slot machines (pokies) and 45 table games including roulette blackjack, poker and other classic games, in this casino complex, you can enjoy 3 restaurants, 2 bars, Players Club, famous Poker Championships, live entertainment shows and much more.
More details:
Name: Christchurch casino
Opening date: 1994
Owner: Skyline Enterprise
Parking: Yes/Free
Dress code: Yes
Age limit: 20+
Phone contact: 03 365 9999
Email: generalenq@christchurchcasino.co.nz
Location: 30 Victoria Street/ Christchurch/ PO Box 4141/ Christchurch 8140
Christchurch casino opening hours: 24/7
Grand Casino Dunedin
Former Dunedin casino, today's Grand Casino is operating since 1999 and is owned by Dunedin Casinos Management Limited with key principal Earl Hagaman who according to an article from stuff.co.nz owns 42 per cent share of the Dunedin casino. Connected with the Southern Cross Hotel, the casino is only 24km away from the airport and is located in the city centre. Even this is a smaller casino with only 7 table games and around 180 slot machines players can experience unique gambling experiences and world-class gambling services. Visitors can enjoy here great event nights, Grand Bar and luxury restaurant, tournaments, and Grand Rewards program.
More details:
Name: Dunedin casino
Opening date: 1999
Owner: Earl Hagaman
Parking: Yes/Free
Dress code: Yes
Age limit: 20+
Phone contact: 03 477 4545
Email: enquiries@grandcasino.co.nz
Location: 118 High Street/ Dunedin New Zealand
Dunedin casino opening hours: Open daily from 12 pm
SkyCity Auckland Casino
SkyCity Auckland Casino is a spectacular venue where you can experience world-famous casino games, unforgettable live events, as well as great food accompanied by cocktails and other refreshing drinks from the bar offerings.
It is located only 45 minutes away from Auckland Airport when you take a taxi, car or bus. If you have a favourite casino game, you're sure to find it in some variations at SkyCity Auckland Casino.
Why?
Well, they have provided over 2,100 gaming machines + 150 table games that will meet your expectations at a high level.
With a strict policy of responsible gambling and strict by the book rules, this casino can really provide you with an unexpected and exciting experience.
Remember that you must be aged at least 20 years to be allowed to enter the gaming areas or enrol in the Premier Rewards program.
More details:
Name: SkyCity Auckland Casino
Opening date: 1996
Owner: SkyCity Entertainment Gruop
Parking: Yes/Free
Dress code: Yes
Age limit: 20+
Phone contact: 08007592489 (tool-free within NZ)
Email: enquiries@skycity.co.nz
Location: 72 Victoria St W Auckland 1010
SkyCity Auckland casino opening hours:
SkyCity Hamilton Casino
Casino SkyCity Hamilton offers its services to visitors 24 hours a day, 7 days a week and guarantees a wide range of casino games, great excitement, live events, as well as great specialties and drinks from restaurants and bars. They put the biggest focus on gaming machines where they assembled over 330 machines. As for table games at Hamilton Casino, you can choose from a total of 23 tables with games like Blackjack, Roulette, Baccarat, Rapid Roulette, Rapid Baccarat, Three Card Poker, and Caribbean Stud Poker and an amazing Money Wheel. Hamilton is another luxury casino from the Sky City machinery that recently released an online version of SkyCity Casino registered under the gambling laws of the Malta Gaming Authority.
More details:
Name: SkyCity Hamilton Casino
Opening date: 2000
Owner: SkyCity Entertainment Group
Parking: Yes/Free
Dress code: Yes
Age limit: 20+
Phone contact: +6478344900
Email: enquiries@skycity.co.nz
Location: 346 Victoria Street/PO Box 954/Hamilton/New Zealand
Hamilton casino opening hours: 24/7
SkyCity Queenstown casino
Fantastic live events, bars and restaurants, with the addition of the most popular real money casino games await you at SkyCity Queenstown land based casino which is available for visits from 11 am to 12 pm seven days a week. Be sure to enjoy Roulette, Midi Baccarat and Blackjack table games along with 86+ pokies. The friendly staff and professional dealers will allow you a high-level gaming experience. If you are a beginner player, Sky City has offered to learn to play brochures that you can collect on the main court. Or, if you prefer, you can ask for help from any team member at the casino.
More details:
Name: SkyCity Queenstown Casino
Opening date: 2000
Owner: SkyCity Entertainment Group
Parking: Yes/Free
Dress code: Yes
Age limit: 20+
Phone contact: +6434410400
Email: info@skycityqueenstown.co.nz
Location: 346 Victoria Street/PO Box 954/Hamilton/New Zealand
SkyCity Queenstown casino opening hours: 11 am-12 am every day
SkyCity Wharf Casino
Wharf casino is a smaller gambling house called "boutique casino" located in the bay in Beach Street. Opened in 2000, it offers a special experience full of excitement and a great atmosphere. As for the offer of casino games, here you will be able to enjoy over 60 gaming machines and 6 table games. The table limit is very low at NZ $ 2.00 and available table games are Texas Roulette, Blackjack, Holdem Poker, and Baccarat. Right next to the casino are the Bistro and the Waterfront Bar where you can eat and drink. The casino has a strict rule for responsible gaming and the legal casino age rule forbids entry to persons under 20.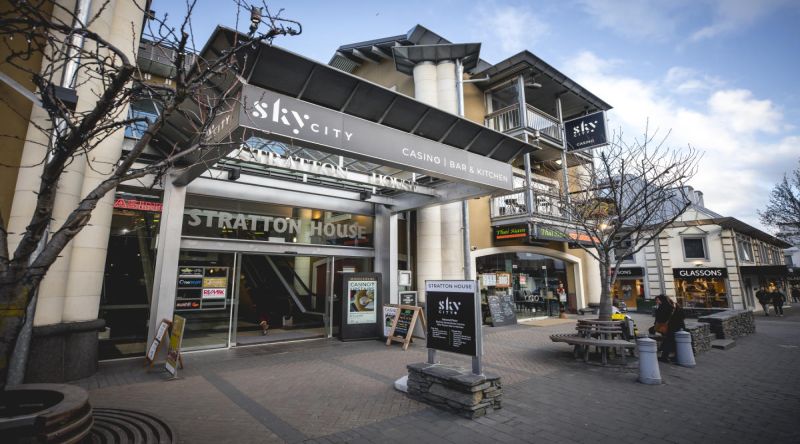 Name: SkyCity Wharf Casino
Opening date: 2000
Owner: SkyCity Entertainment Group
Parking: Yes/Free
Dress code: Yes
Age limit: 20+
Phone contact: 03 441 1495
Email: info@skycityqueenstown.co.nz
Location: 88 Beach Street/ Upstairs at Steamer Wharf/Queenstown 9300/New Zealand
SkyCity Queenstown casino opening hours: 11 am-12 am every day
Casino Hire Auckland
If you having a party or event and you would like to spice it up with some excitement and adrenaline with a mix of positive vibes then you should definitely contact Casino Hire Auckland. Excellent service and the lowest prices with the addition of Poker, Roulette, Blackjack and other casino games are guaranteed. The key figure and owner of this service company is Leon who is originally from Wellington. He spent over 15 years in Casino Hire Industry and after moving to Auckland in 2018 he started this small but useful and effective business. The full range of quality casino equipment that includes professional tables, chips, quality playing cards, crown & anchor and much more separates you with just one call. Beautify your evening and make an ultimate party.
More details:
Name: Casino Hire Auckland
Opening date: 2018
Owner: Leon
Age limit: 18+
Phone contact: 0800222765 (tool-free)
Mobile: 022 468 7658
Location: 184 Karangahape Road/Newton Auckland/New Zealand
SkyCity Queenstown casino opening hours: 24/7
New Zealand land-based casinos' history
The first land-based casino in New Zealand opened in Christchurch (1994). Over the next 6 years, 5 more casinos opened, one each in Auckland, Dunedin, Hamilton, and 2 casinos in Queenstown.
21 years have passed since the last casino opened (Wharf Casino Queenstown in the 2000s) and the number has not changed yet, only the owners and names.

To better determine the history of New Zealand's land-based casinos, we need to go back even earlier, to the 19th century. Gambling was even then a part and way of life of New Zealanders.
In the mid-19th century, Kiwis bet on cards as well as athletic competitions. The most popular form of gambling took place in the Bay of ISland in 1835 when the first horse race was held. Gambling on horses became so popular that in the late 19th century the Protestant church increased restrictions that from 1910 in New Zealand completely banned bookmakers at horse racing events.
During the two world wars, pakapoo (lotto) and two-up were popular in NZ. 1932 under the government regulations the art union lotteries were trendy by McArthur and Hammond. The Golden Kiwi lottery in 1961 was introduced to Kiwis.
Then in 1950, horse betting was legal but under the state-run institution called today TAB (Totalisator Agency Board).
Introduction of land-based casinos
The first lotto game that we can see today with the weekly draw of numbers became so much popular in the 1980s. Statistics say that in 2002s the game was played on a regular basis by 67% of the NZ population, with 400,000 Kiwis in front f the television every Saturday night.
In hotels, sports and chartered clubs, and Services Associations became legal electronic gaming machines (pokies) in 1988. In order for the parliament in 1989 to approve the opening of land-based casinos in order to reduce relative spending on races.
Selection of NZ land based casino games
What games can I play in NZ land-based casinos?
If you are planning to visit brick and mortar casino in NZ you will surely be asked this question.
Of course, each of the 6 casinos in NZ owns a different number and types of games in addition to the casinos owned by Sky City. But last but not least, the land-based casino games on offer are similar. Players can choose to play between table, card, and electronic games, but also some casinos offer lotto, sports betting and other fun games for real money.
The most popular land-based casino games in NZ according to rnz.co.nz are:
Pokies
Poker
Blackjack
Baccarat
Roulette
Craps
In 2020 every adult spent around 204$ at the pokies and around $128 at land-based casinos.
Locations of all NZ brick and mortar casinos
New Zealand is a target for many tourists and even locals. There are so many beautiful things to visit and see. One of these attractions is the land-based casinos.
All gamblers have the opportunity to visit 6 amazing land casino facilities. As we have already said, casinos are located in the 5 biggest cities and if they are near you, why not try your favourite game and have fun with adrenaline.
In addition to casino games, these facilities offer other services, including bars and restaurants, entertainment events and more. Most of these casinos are located near luxury hotels, some of them are in the same building as the hotels.
Of course, it is very easy to find casinos on land via Google maps and transportation cannot be a problem. All casinos can be reached by public transport, including taxis, trains and buses. If you have your own car, you can drive to their location.
But to make it easier for you here we have marked the location of all the land-based casinos from New Zealand on the google map.
Advantages of land-based casinos vs online casinos
Two decades ago the internet was not as developed as it is today, and the only way to gamble was to go to a land-based casino, a nearby pub or a club.
There you could enjoy classic casino games including poker, blackjack, pokies, and other games. There are many advantages that these times brought with it, but of course, also disadvantages.
However, for some, these things can be a disadvantage, because they are bothered by noise and crowds.
While for those types of players gambling at an online casino has bigger advantages.
But if we are going to focus on the benefits of a land-based casino over online then it would be the following:
The first advantage of land-based casinos would of course be the feeling created by the land based casino when visiting one.
The atmosphere, the sound of the machines and the players playing them, the lighting, as well as the services such as the bar, buffets, as hotel accommodations.
But one thing is for sure, visiting a landbased casino environment gives us a special and enjoyable feeling that can not be achieved by playing online casinos and even on live dealer games.
Land based casinos in the time of the pandemic
Also at the time of the Covid-19 pandemic and the rules of keeping distance had a very big impact on land-based casinos. These organizations have suffered big time.
During the restrictions, all casinos in the world had to temporarily close their business to prevent the spread of the virus.
All 6 casinos in New Zealand are temporarily closed and players do not have many options for playing classic casino games.
Two sides of casino gambling
Gambling in brick and mortar casinos is a way of entertainment where players use real money as a wagering tool. One thing is for sure, playing in a casino gives us a fun and thrilling experience.
There are so good effects that can bring us casinos, but there is also a bad side. That is why players should always look how they play and always gamble for fun not for a living. Uncontrolled and excessive gambling for real money brings a huge risk.
Some players gamble over their budget and that can create a lot of consecuences. That is why players should always gamble smart and responsible in order to maintain the positive casino expirience.
In most world's countries gambling in casinos is a legal and very popular branch with 1 billion active players yearly. In some countries, gambling is considered illegal and is prohibited by the law. Like for example in many middle east countries.
Either way, if you decide to try your luck at real money casino games, you can have all two outcomes. One bad and one negative. The good outcome is that you can double your money and come out as the winner.
The other outcome is of course that you lose all your money. Therefore, when deciding to play, you should always set a budget that you are willing to lose in return for the time spent and fun in the casino.
Frequently asked questions
Here are the most common questions about land-based casinos.
How many land-based casinos are in New Zealand?

There is a total of 6 government approved land-based casinos in New Zealand.
What is the legal gambling age in New Zealand casinos?

In order to enter gaming areas in New Zealand casinos, you must be the age of 20 years or older. However for other forms of gambling the gambling age is different. The age of 18 years or older is for example legal when playing online casinos. Learn more about casino and gambling ages in NZ here.
What is the largest land-based casino in New Zealand?

The largest casino in New Zealand is Sky City Auckland casino which is located beneath the Sky City Tower.
References:
History of NZ casinos: https://teara.govt.nz/en/sports-and-leisure/page-2
https://www.dia.govt.nz/Gambling?OpenDocument#three